Green Dot Program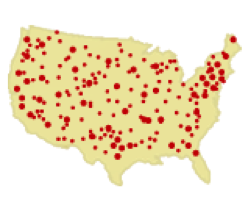 According to their website: "Green Dot, etc. is an organization built on the premise that we can measurably and systematically reduce violence within any given community. We believe current research across disciplines, in combination with lessons learned from history, provides nearly all of the necessary puzzle pieces to create a successful model of violence prevention. Given this foundation of knowledge, we believe any group, committed to equipping themselves with the necessary skills and willing to let go of historically ineffective approaches, has the capacity to implement a successful violence prevention strategy."
For more information: https://www.livethegreendot.com/
Green Dot TCNJ
---
Visualize for a moment unforgettable images of small red dots spreading across a computer-generated map of the US, symbolizing the spread of some terrible epidemic – with each tiny red dot representing an individual case. With disturbing speed, the three or four single dots multiply and spread until the whole map emits a red glow comprised of a zillion tiny dots.
Now Imagine A Map On TCNJ's Campus:
Each red dot on this map represents an act of power-based personal violence (partner violence, sexual violence, or stalking) – or a choice to tolerate, justify or perpetuate this violence. A red dot is a rape – a red dot is a hit – a red dot is a threat – a red dot is a statement that justifies or minimizes violence – a red dot is an individual choice to do nothing in the face of a high-risk situation. Power-based personal violence is not a huge, solid mass that can simply be removed with one swift action or policy. Rather, it is the accumulation of individual decisions, moments, values, and actions made by men and women from every corner of our campus. It's hard to know exactly how many red dots are on our map at any given moment – but we do know there have been enough red dots to create a culture that sustains far too many women and men experiencing violence.
Now Imagine Adding A Green Dot In The Middle Of All Those Red Dots:
Imagine that a green dot is any behavior, choice, word, or attitude that promotes safety for all of us and communicates utter intolerance for any form of violence. A green dot is pulling a friend out of a high risk situation – a green dot is putting a green dot statement on our Facebook page – a green dot is doing a paper about violence prevention – a green dot is hanging an awareness poster in your hall or classroom – a green dot is wearing your green dot gear – a green dot is encouraging discussion in class about violence prevention – a green dot is striking up a conversation with a friend about how much this issue matters to you – a green dot is organizing a fundraiser for campus prevention efforts – a green dot is getting your organization to go to green dot bystander training. A green dot is simply your individual choice at any given moment to make our campus safer.
---
The Office of Anti-Violence Initiatives has many ways to get involved and be part of the culture shift to create awareness around power-based violence issues and to be a positive, active bystander.
For more information on how to get involved with Green Dot: https://oavi.tcnj.edu/green-dot/
For more information on how to be a Peer Education Member: https://oavi.tcnj.edu/save/
For more information on how to be a Volunteer or Intern: https://oavi.tcnj.edu/volunteers/