The College of New Jersey is committed to sustaining an environment free from discrimination and harassment. As part of TCNJ's ongoing and continuous commitment to campus well-being, we are offer both in-person and online training programs designed to inform participants about sexual misconduct, sexual harassment, sexual violence, mandated reporting, bystander intervention, and various other related topics.
The Office of Title IX & Sexual Misconduct strives to offer awareness campaigns and prevention programs that seek to promote positive & healthy behaviors, foster healthy, mutually respectful relationships, encourage safe bystander intervention, and seek to ensure all members of the campus community know what rights and resources are available to them for incidents involving sexual harassment/misconduct.
Campus-Wide Educational Initiatives
---
Required Online Programming for Students (Every Choice & Clarifying Consent)
As part of TCNJ's commitment to preventing and responding to incidents of sexual harassment/misconduct, the College requires various cohorts of students to complete training at the start of each academic year.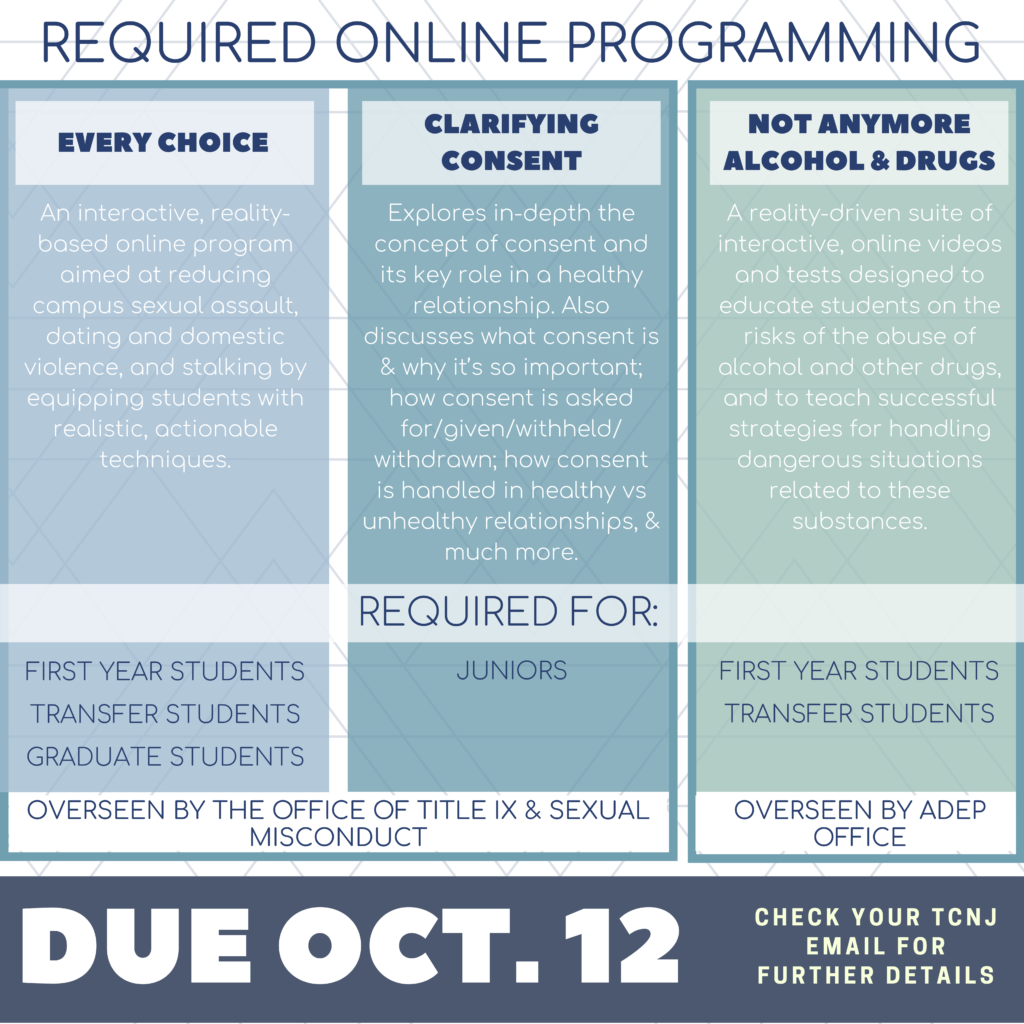 To complete the online training requirement, access the programming through the button below, log-in with your TCNJ credentials & follow the on-screen instructions provided. Once you are finished, you should receive a certificate of completion and should retain a copy of it for your records.
Failure to complete these programs prior to October 12, 2020 will result in a hold on your student account, which will prevent you from being able to register for courses.
For questions/concerns regarding:
Server security –
We've followed up with IT on this issue and it appears that TCNJ's single sign on (SSO) software (the page that usually pops up and asks you to enter your TCNJ credentials), is outdated according to Google Chrome. However, the email about the required programming you received is not spam, and folks within IT departments at both TCNJ and Vector Solutions confirmed the online programming site truly is secure and should not cause any issues. If you're using Google Chrome, you may proceed to the programming by clicking the link provided, then hitting 'Advanced' and then clicking the hyperlink that appears below the paragraph and says 'proceed' to the site. If that does not work, try accessing the programming through a different web browser such as Firefox or Safari. If none of these recommendations work, please contact the individuals listed below.
All other concerns –
Online Program
Contact Office
Email
Phone
Not Anymore for Alcohol and other Drugs
Alcohol & Drug Education Program
sargissc@tcnj.edu
609-771-2451
Every Choice & Clarifying Consent
The Office of Title IX & Sexual Misconduct
titleix@tcnj.edu
609-771-3112
*To contact Vector Solutions directly, you may utilize the 'HELP' button located within both programs or send an email to support@studentsuccess.org
---
Workshops & Presentations Upon Request
The Office of Title IX & Sexual Misconduct is available to provide programs upon request. Examples of available programs include, but are certainly not limited to:
A Guide to Title IX

Overview of the Office of Title IX & Sexual Misconduct, College Policy, campus reporting processes, and how the office can provide support & accountability for incidents of sexual harassment/misconduct.

Let's Talk About Consent

A critical element of consensual sex is communication. This workshop addresses the multi-facets of consent, including: what consent language can sound like and look like, how to negotiate personal desires and preferences, how to respond to rejection, and how alcohol and other substance use impact sexual decision-making.

Title IX & the New Federal Regulations – What has changed & what does this mean for TCNJ?
Don't see a program/training topic(s) that you're looking for here? Not to worry, the staff within the Office of Title IX & Sexual Misconduct are more than happy to come up with a program that best fits the goals/objectives you and your group are looking for.
To schedule a program through our Office, whether it be a workshop, presentation, or training, please complete the request form below in its entirety.
Please note, form completion does not automatically schedule you for an event. After completion, a staff member from the Office of Title IX & Sexual Misconduct will contact you via email to coordinate program details. Please note that training dates/times are subject to staff availability, but the staff will make every effort to accommodate you/your group's schedule/times.
---
Training of Title IX Personnel
---
Individuals who fill certain roles in the Title IX Grievance Procedure must receive training to ensure awareness of their compliance obligations and in order to best provide equitable treatment to Reporters and Respondents and be compliant with the Grievance Procedures required by Title IX. These individuals are the Title IX Coordinator, Deputy Coordinators, Investigators, Decision Makers (including appellate decision makers), and any person facilitating an Alternative Resolution Process. Training subjects must include: the definition of Sexual Harassment as proscribed by the Title IX regulations; the scope of the College's education program or activity; how to conduct an Investigation and Grievance Process including Hearings, Appeals, and informal resolution processes, as applicable. Additionally, the Decision Maker(s) must receive training on any technology to be used at a live hearing and on issues of relevance of questions and evidence, including when questions and evidence about the Reporter's sexual predisposition or prior sexual behavior are not relevant. Investigators must also receive the appropriate training needed to create an investigative report that fairly summarizes relevant evidence.
Further, any individual designated by TCNJ as a Title IX Coordinator, Investigator, Decision Maker, or any person facilitating an Alternative Resolution Process, will not have a conflict of interest or bias for or against Reporters or Respondents generally or an individual Reporter or Respondent. They will also be required to receive training on how to serve impartially, including by avoiding prejudgment of the facts at issue, conflicts of interest, and bias. Any materials used to train Title IX Coordinator, investigators, decision-makers, and any person facilitating an Alternative Resolution Process must not rely on sex stereotypes and must promote impartial investigations and adjudications of Formal Complaints of Sexual Harassment. Any training materials on these subjects will be publicly shared in the manner described below.
The Title IX regulations (34 C.F.R. part 106) further require TCNJ to make publicly available information on these trainings starting August 14, 2020. A list of trainings attended by these individuals is available. This list includes all trainings attended post-August 14, 2020.  It also includes some trainings attended prior to August 14, 2020 when the trainings were relevant to our obligations under the Title IX regulations (34 C.F.R. part 106).  These trainings are both internal and external trainings. The list includes the materials used in the training, all of which are provided for public review. These materials will be kept for seven years and can be accessed through the button below.
Title IX Personnel Training Materials
In response to 34 CFR Part 106.45(b)(10) of the 2020 Title IX Final Rule that mandates the public sharing of materials used to train school and college Title IX personnel members, the College will continue to post access to training materials through this website to the extent necessary to comply with Title IX.