---
What is a Responsible Employee?
---
Responsible Employees have a duty to report to the Title IX Office all relevant details of any alleged sexual violence, dating violence, stalking, or sexual harassment incident involving a TCNJ community member about which the Responsible Employees knows or should reasonably be aware. Individuals not classified as a Responsible Employee do not have the authority to take action to redress sexual violence; and have not been given the duty of reporting incidents of sexual violence or any other misconduct by students to the Title IX coordinator or other appropriate school designee – however, reporting incidents of sexual violence or any other misconduct is strongly encouraged.
Obligations as a Responsible Employee:
Report ALL information to Title IX Office

Name of Victim and/or Reporting Party
Name of Alleged Student
All details regarding the incident

Report information immediately

TCNJ is "on notice" once you know this information, so you are required to contact the Title IX Office within 24 hours of receiving the report

Report through one of the following options

Submit a report through the online Title IX Reporting Link

This is the preferred reporting option

Email Title IX Staff directly:

Title IX Coordinator, Chelsea Jacoby, jacobyc@tcnj.edu
Title IX & Student Conduct Investigator, Caitlin Babcock, babcockc@tcnj.edu

Phone: 609-771-3112

Be caring & compassionate to the Reporting Party
You can access the PDF version of the below Responsible Employee Cheat Sheet through the provided link.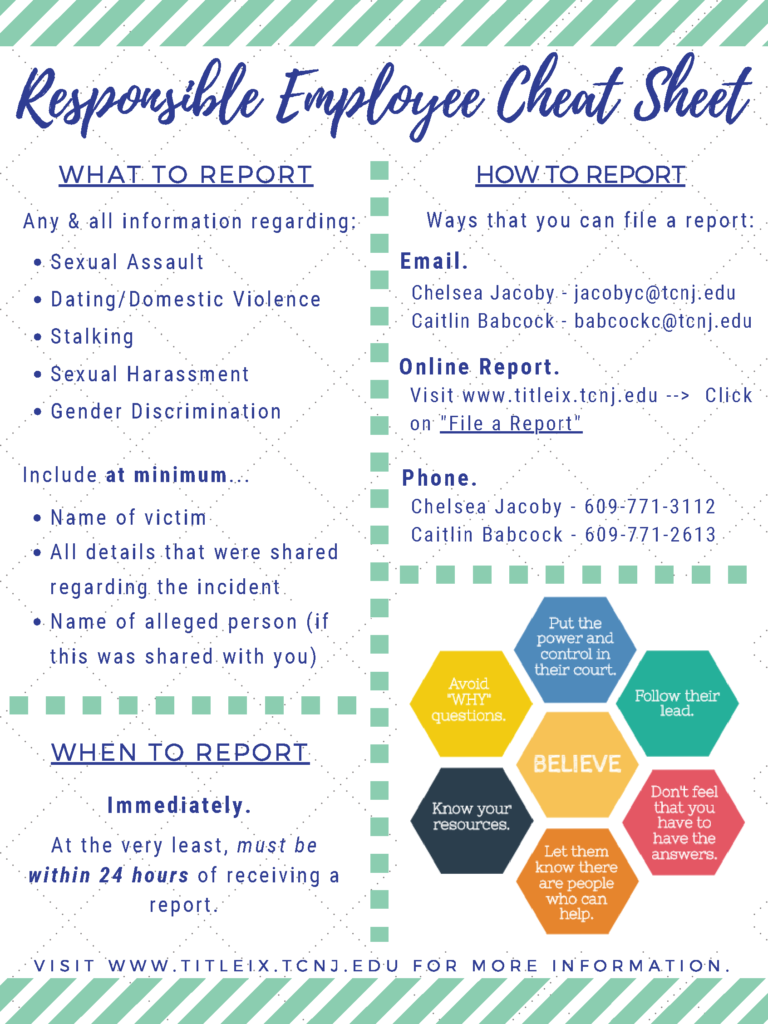 For more information on Responsible Employee's and the legal obligations set forth by the Office for Civil Rights: http://www.higheredlawreport.com/2014/05/responsible-employees-and-title-ix/
---
Who is a Responsible Employee at TCNJ?
---
Some students such as CAs, RAs, Griffins, and Orientation leaders are also Responsible Employees and training will be facilitated by their advisor in collaboration with the Title IX Office.
If you are only listed under one of these links please contact Title IX Coordinator, Chelsea Jacoby, and she will clarify your role.
---
What happens after an incident is reported?
---
Once a Responsible Employee learns of any information that may be a Title IX violation they are required to report this information to the Title IX Coordinator. The Title IX Coordinator wants to ensure that all TCNJ community members feel safe in their environment and will reach out to the student or employee to give them information on accommodations, the College and Criminal process if they are interested in pursuing the allegations, and numerous on-campus and off-campus resources. The Reporting Party does not have to participate in any College process and the main concern of the College is helping to maintain that the incident does not impact their educational pursuits and evaluating whether there is a threat to the overall TCNJ community.
Please do not hesitate to contact the the Title IX Office if you have any questions:
---
Interested in learning more about Title IX?
---
Members of the TCNJ Campus Community can receive training around Title IX & sexual violence, including on-campus reporting options and resources (Responsible Employee Training), in a few different ways –
IN PERSON – 
The Title IX Staff will be hosting in-person Responsible Employee Training on the following days/times throughout the Spring 2020 semester: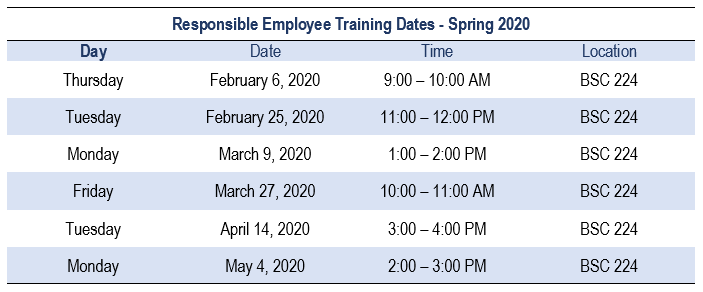 This is the recommended format of training. It is requested that those interested in attending any of these in-person trainings please RSVP through the provided think in efforts to ensure appropriate spacing and distribution of materials.
ONLINE – 
Not Anymore is an online sexual violence education program that is designed to educate College employees on Title IX, sexual violence, and legal obligations. As a TCNJ employee you have FREE access to this program throughout the 2019-2020 academic year. The program is 30 minutes and you have the freedom to log-in and out of the program to accommodate your schedule.
If you have been identified as a Responsible Employee and elect to complete the training through this online platform, you must email your certificate of completion to titleix@tcnj.edu to verify you've met your training obligation.
Access the online training program here –> https://studentsuccess.org/SSO/tcnj/emp19
---
Resources
---
Below are some resources that you may find helpful as a Responsible Employee if a student reports a Title IX incident to you:
---
What if I do NOT want to report to a Responsible Employee?
---
The College offers several confidential and free resources for students who are unsure of reporting to a Responsible Employee:
---
These lists and links are continuously updated as trainings occur and additional resources are offered. Please contact the Title IX Coordinator, Chelsea Jacoby at jacobyc@tcnj.edu or x 3112, if you have any questions about your position.