---
As a member of the TCNJ community you have the right to file an official complaint through the College process, through the criminal process, or through both. If you wish to file a report or learn more about how each of these processes work, please click the following buttons:
College Process Criminal Process File A Report
---
Incident Report Flow Charts (Student & Faculty/Staff)
---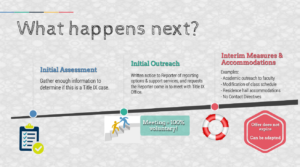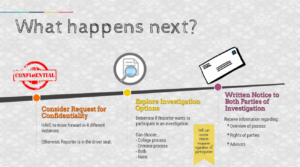 ---
What if I share my story? Flow Chart
---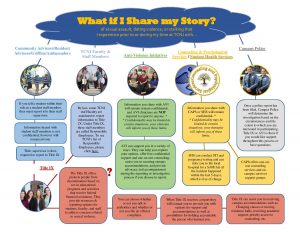 ---
What if I do

not

want to talk to anyone at the College about this?
---
If you feel more comfortable discussing your experiences and options with someone unrelated to TCNJ, a trusted organization exists very close to our community: Womanspace. They provide a 24 hour, confidential hotline, advocates and professionals to facilitate SART activation, access to legal resources, and individual and group counseling.
1530 Brunswick Ave, Lawrenceville, NJ 08648
24 Hour Hotline: 609-394-9000
Counseling Office: 609-394-0136
* Please note Womanspace serves all genders.
---
There are also several off-Campus resources that you can reach out to in our Counseling Page